The mission of the Meigs Soil and Water Conservation District is to provide assistance for the wise use of our natural resources for present and future generations.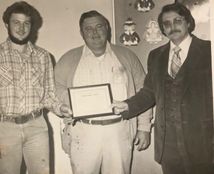 CELEBRATING 75 YEARS OF CONSERVATION IN MEIGS COUNTY!
Annual meeting and banquet to be help October 2nd at the Meigs High School cafeteria. Voting for supervisor begins at 6pm and dinner at 7pm. Reservation can be made by calling the office at 740-992-4282 by September 27th at 4:30pm.

---

The latest Meigs SWCD newsletter is out!
Click here to check out the online version and
to see what is new with the Meigs SWCD.


"Like" us on Facebook @ MeigsSWCD Conservation Area or Meigs Soil and Water Conservation District for the latest updates.

Help Save the Monarch Butterfly by Protecting Native Milkweed
The iconic monarch butterfly, which has long been a welcome sight in backyard gardens across Ohio, faces many threats. In Ohio, one way we can ensure future generations of monarch butterflies continue to visit flower gardens throughout our state is by protecting native milkweed plants.
Every year in the fall, monarch butterflies across the eastern U.S. and Canada begin a 3,000-mile-long journey down to wintering grounds in Mexico. In the spring, these same butterflies head back north, and delight us with their presence once again. However, this amazing journey would not be possible without milkweed, a group of plants critical to the survival of the monarch butterfly. As butterflies, monarchs can feed on the nectar of a number of different flowering plants, but as caterpillars, monarchs are entirely dependent on the availability of milkweed.
Monarch caterpillars hatch from eggs laid on milkweed plants and feed on the leaves of the plant as they grow. If these plants are mowed, removed, or sprayed with pesticides or herbicides, the caterpillars will not survive. Protecting these plants, especially during the egg-laying period from July through September, helps both monarch butterflies and caterpillars continue their life cycle and ultimately results in more monarch butterflies that can complete their journey to Mexico and back.
In the past, milkweed was viewed as a toxic weed. Today, we know that milkweed is a very important group of native plants that helps support many species of wildlife, including monarch butterflies. Learn more about ways you can help ensure these beautiful butterflies are around for generations to come by visiting the Monarch Joint Venture or the click on Save the Monarch for more information.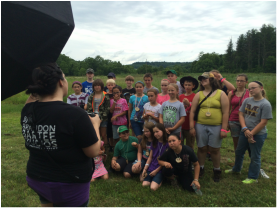 2019 Watershed Camp
Watershed Camp will be held June 5 and 6 at the Conservation Area on New Lima Road. Camp is for kids ages 9-13. Camp is free for 50 campers. Some examples of past presentations included birds of prey, exploring the wetland, outdoor photography, electro-fishing, geocaching, soils, snakes, and much more. The campers learn a lot from the hands on activities. The Meigs SWCD staff and camper would like to thank the local business that donate to help keep the camp free to all campers. Powells Foodfair, Twin Oaks, Rutland Bottle Gas, Ridenour Gas, Court Street Grill, Par Mar, and Save A Lot. We really appreciate your support! Click here for registration form.


To find out about camp events contact Jenny.Ridenour@oh.nacdnet.net
---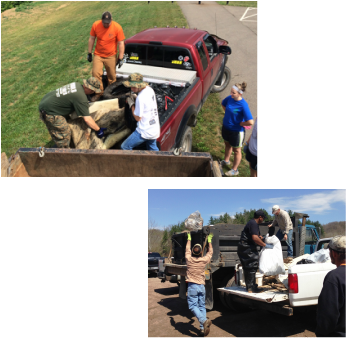 The 2019 Ohio River Sweep will be held on June . Volunteers can meet at Star Mill Park in Racine at 9am. Special thanks to the partners and past donors: Ohio River Valley Water Sanitation Commission (ORSANCO), Home National Bank, Farmers Bank, Leading Creek Conservancy Distirct, Jaymar Inc., the village of Racine, the Meigs County Transfer Facility, Pepsi of Athens, and Hill's Sonoco.


---
Meigs County Clean Up Day
Meigs County was awarded Ohio EPA Litter Prevention and Tire Amnesty Grant. Meigs SWCD in partnership with the Meigs County Commissioners, the County Health Department, and the County Grants Office used this grant funding to organize and conduct Meigs County Cleanup Day May 20, 2017. Approximately 1644 tires were collected during the event. We are still waiting on the numbers for tons of scrap electronics and metal and solid waste that was collected at the event. The Shred Devil commercial paper shredder boxtruck was partially filled this year. 358 vehicles entered the fairgrounds from 9am to 2pm.

The event took place from 9am to 2pm at the Rock Springs Fairgrounds. Free to Meigs County Residents. Proof of residence required such as driver's license or utility bill. No industrial or commercial customers. Get rid of junk, electronics, and tires for FREE! Limit of 10 tires per vehicle. What we DO NOT TAKE: general household trash, appliances with refrigerant, household hazardous waste, chemicals, cleaners, pool chemicals, fluorescent lamps and ballasts, pesticides, herbicides and fertilizers, medical, infectious or biohazard waste, batteries or any liquids. Call the office for any questions, 740-992-4282.

Honoring Meigs County's agricultural roots
through ODA's Century Farm Program
Meigs County is blessed with an agricultural heritage that has provided many historic, social and economic benefits to today's citizens. Our early farm families laid the foundation for today's food and agriculture industry - the no. 1 industry in the state - which adds $105 billion to our economy each year, according to Steve Jenkins, program administrator for the Meigs Soil and Water Conservation District.
The Ohio Department of Agriculture's Century Farm program was established in 1993 as a way to honor our pioneering farm families, and the Bicentennial Farm program was added in 2013. More than 1,000 Ohio farms which have been in the same family for at least 100 years are now registered as Ohio Bicentennial or Century Farms.
The Meigs SWCD is proud to recognize three local farms registered as Ohio Century Farms: Arthur Nease, Racine (1833), Virgil Windon, Chester (1869), and James Osborne, Reedsville (1872).
Jenkins encourages Meigs County families who may qualify to learn more on the program website (
www.agri.ohio.gov/divs/cent_farms/
), or to contact Program Manager Cindy Shy at
cindy.shy@agri.ohio.gov
or 614-752-9817.
For pictures from past events, visit our Meigs SWCD
facebook
and Leading Creek
facebook
page.
Please check back later for more clean-ups, educator workshops, watershed tours, and other events! And don't forget to visit our photo page!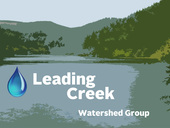 Leading Creek Watershed UpdatesLeading Creek is always looking for volunteers to do water quality monitoring. Please visit our Leading Creek page for more information!Visit our
Facebook
! page and "like" Leading Creek Watershed
---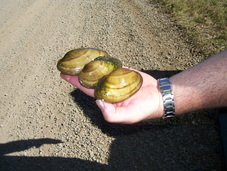 Mussel Reintroduction Update
On September 11, 2012 Dr. Watters (curator of mollusks at the Ohio State University Museum of Biological Diversity in Columbus) came down to the Leading Creek Watershed to reintroduce the two new species of mussels into our watershed. These fresh water mussels disappeared in 1993 in response to a large influx of acid mine drainage into the Leading Creek. Freshwater mussels have been disappearing though out Ohio over the past couple of decades, and the causes are largely uncertain, although sedimentation and pollution could be contributing.
For more on Leading Creek visit the Leading Creek Watershedpage.
Content copyright 2009 - 2012. Meigs SWCD. All rights reserved.
---